For a while I've toyed around with the idea of programatically generating t-shirt 'designs' (and I use the word in the loosest possible sense) from one's twitter feed. The mechanics I had in mind were something like this:
You have a fetish for self-promotion, decide you want a coffee cup or t-shirt with some stuff from your twitter feed on it, and you aren't too fussy about aesthetics.
You tweet to @tweet2tshirt asking it to pretty please make you a t-shirt design.
@tweet2tshirt tweets you back with a link to this item on cafe press, when it is done.
Which is pretty much how it works.
What do the 'designs' look like? I'm glad you asked. The short answer is 'not very good', and come in two varieties, incorporating your profile picture, some of your 'greatest tweets' and some images from your twitter feed. These get programatically combined into a gloriously large 2600 x something large PNG and uploaded to Cafe Press. Depending on what you've put on twitter the designs are going to look more or less crappy.
So a PNG like this becomes available as a cup, t-shirt, iPad cover etc.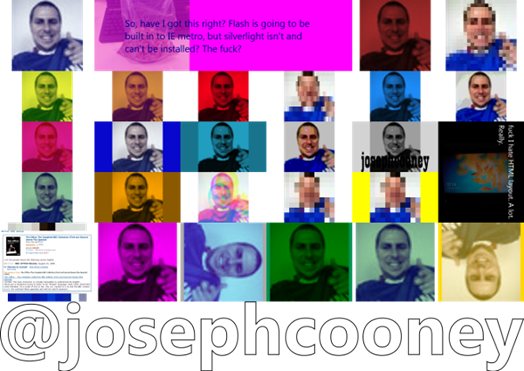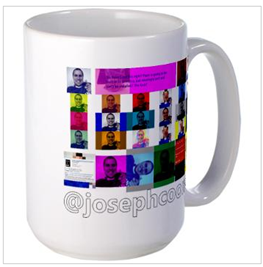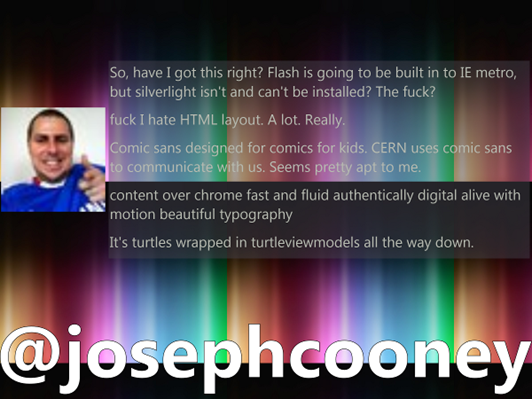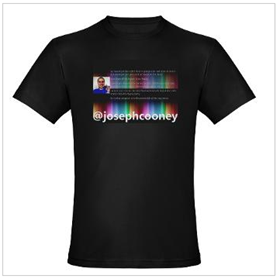 Automating the publishing to cafe press has been by far the most problematic of all the steps. Yes, after working on this for a little while I really hate the site of my own face, and pictures of my friend's faces.
Comments